ACH Scout
Instantly Review for Each Customer:
Easy installation – no complicated dependencies or setup
Independent – doesn't impact production systems
Reads NACHA formatted ACH files at over 1,000 items per second
Interactive Dashboard for exploring the data
Context-sensitive reports to zero-in on specific originators
Drill through to individual item detail
All reports may be exported as Word, Excel or PDF documents
Analysis session can be saved to resume later

ACH Scout is designed by auditors for auditors and analysts (internal and external) who need to examine and evaluate ACH data.
Perfect for smaller FI's
Perfect for spot audits in larger FI's
Perfect for third party senders
Simply point ACH Scout to a folder that contains NACHA formatted ACH files and within minutes you get a snapshot of origination activity.
Isolate issues needing attention
Drill through for further analysis
This automated process is far superior to the tedious, time consuming and error prone manual alternative which can take as much as an entire day or longer. ACH Scout is Laru Technologies entry into the emerging field of RegTech (Regulatory Technology). With the arrival of new Fin Tech entities & faster payments, regulators are looking to technology companies to help them with "smart" regulatory tools.
ACH Scout delivers powerful capabilities to the auditor's fingertips without the hassle of complicated software setup or configuration!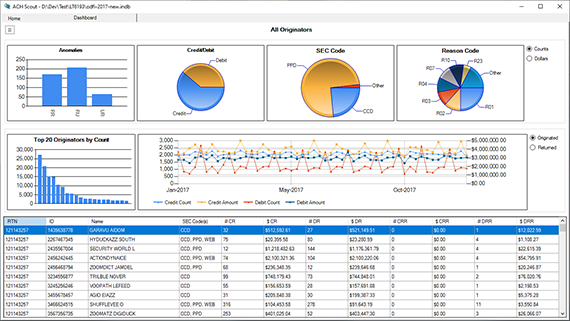 Request a 30 Day Free Trial
Talk to Laru Tech experts to see how we can help your Financial Institution.
REQUEST NOW