Overview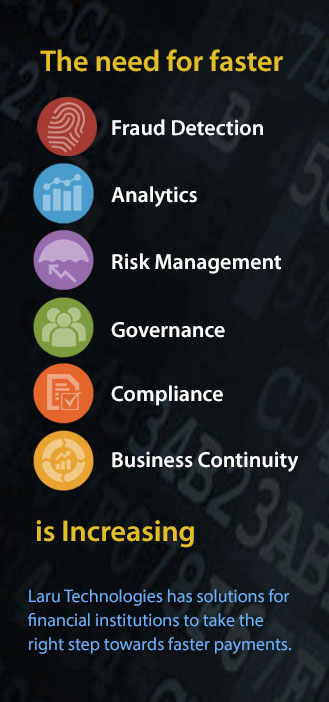 Laru Tech provides a wide variety of tools to monitor and contain ACH and Wires fraud and risk. Laru Tech's product suite serves as an independent audit system combining OCC, FDIC & FFIEC guidance with its proprietary business intelligence methodology, taking risk analysis to a new level.
At the heart of Laru Tech's elegant product suite is the age old principle – one can only manage what is measured, whether that is a process or a problem. Accordingly Laru Tech's risk management products follow a cyclical 3 step process of Alert – Research – Tune up. Incoming transactions are analyzed for exceptions which trigger alerts. Alerts lead directly to research tools. At the conclusion of research, policies can be tuned effectively. These products are positioned at the point of funds transfer as directed by the FFIEC.
We recognize the trust our customers place in Laru Tech, hence our technology management processes and security are subject to an annual SOC2 audit to ensure compliance with leading industry standards.
Use our solutions on premises or in the cloud (SaaS), as they are designed for FIs of all sizes and budgets. These products can be fine-tuned for any degree of operational complexity and are thus equally suitable for financial institutions of any size.
Laru Tech customers use our products for one or all of the following reasons:
Real-time Anomaly Detection (including fraud)
Board Reporting
OCC 2006-39 Specific Reporting
NACHA/FFIEC Risk Assessment Methodology
Third-party Centric Reporting
NACHA Mandated Return Rate Calculations by Both Methods
Limit Management Including Limit Recommendations
Process Automation